Hey Mamas! (and hi to the brand new Promptly Journals blog - nice to see ya!)

Jayne here. I wanted to fill you in on an amazing collab we did with Lactation Link. If you're not following Lindsey, YOU SHOULD BE. Lindsey Shipley is so awesome. She's the expert on everything breastfeeding and her whole focus is to create confident moms through education.
Lindsey did a little Instagram take over for us to share some breastfeeding advice and it was all so good we wanted to recap it here. We also shared a few ways your Promptly Journal can be a tool for you to enjoy breastfeeding. And of course we've included a giveaway! You can see how to win $100 to Lactation Link and 2 Promptly Journals at the bottom of this post. 
ADVICE FROM LACTATION LINK
Let's start off with some of Lindsey's tips. As a labor and delivery nurse, a childbirth educator, lactation consultant (IBCLC) and mom of two, she knows her stuff! She opened up with a Q&A and some of the most talked about topics are discussed with tips by Lindsey below. 
MILK SUPPLY
Stimulation is key! If you want to make more milk, pump every two to three hours and introduce the breast first at every feeding. Lots of moms asked about this - especially with preparing to make enough milk to go back to work!
After breastmilk is warmed, be sure to use it within three to four hours
FEEDING FREQUENCY
Babies tummies are only about the size of their fist. Even up until eight weeks your baby can be feeding every two to two and a half hours and it's totally normal. Frequent feedings are the best way to help your baby get the right amount of food!
LATCH ASSESMENT 
Lindsey mentioned that a poor latch may have to do with how you're positioning the baby for feedings. Make sure the baby's chin has firm contact with the breast, and that the nipple is right under their nose before latching. Good contact with the breast allows babies with the best stimulus to open wide and bring their tongue forward.
To see more of Lindsey's Q&A, the post is here!
Something we really loved that Lindsey shared was to TRUST your Mother's instinct. With breastfeeding, and with anything. She put it really well when she said, "As loving nurturers we tend to over-analyze and over-think every little detail.  I believe that once you have great info and all your options, trust that mother's instinct.  That may mean waiting it out in a certain situation.  That may mean taking your baby to the ER at 2AM when no one else thinks it's necessary.  It means being okay that your baby hits milestones a little differently than your neighbor's baby.  Embrace the uniqueness and wonder in your little one.  No one knows better for your baby than you!"
Here are a few journaling tips we shared, too! 
BENEFITS OF JOURNALING WHILE BREASTFEEDING
#1 : HAS A CALMING EFFECT
I felt a little blindsided by breastfeeding. I remember those first weeks, having to grip something and clinch my teeth every time my baby latched on. Or that first night my milk came in... I thought my boobs were literally going to explode! I felt so scared and overwhelmed - many times thinking it's not worth it. But then, a few weeks went on, and my body and my baby got in a routine and it all normalized.

We have a prompt in our journal throughout the first year that asks, "How is your baby feeding?". At 2 months, I read my "Month 1" response, and already breastfeeding was going SO much better. It was so reassuring to see that written progress - I helped calm me knowing everything was already getting easier.

Our journal is a tool to help you enjoy breastfeeding! I'm so glad I have these struggles, triumphs and feelings written down so I remember what to do with my future babies. I'm so glad I wrote them down right then while everything was so fresh. It's hard to believe, but truly the details fade fast.
 
#2 : INCREASES PERSPECTIVE
Breastfeeding is time intensive and the new mom schedule can feel isolating. Our journal is a great emotional asset for all moms, but especially those breastfeeding. Journaling in general has so many benefits for people's happiness, but is such a strong tool new moms are under utilizing.

The Huffington post says it makes us more mindful, helps spark creativity, and allows for healing. How many of you new moms could use a little healing? I remember being so tired with both my girls, physically hurting, feeling tethered, and the night feedings literally sucked the life out of me (pun intended). 

Journaling the feelings of love I had for my brand new baby, helped me focus on the magic of the fleeting stage. Also, looking over the 18 year timeline in our journal helped remind me that those few months are a short period of time, and that sleepless nights don't last forever. From journaling in my Promptly Journal, I felt more gratitude, and less loneliness with the new phase of mothering.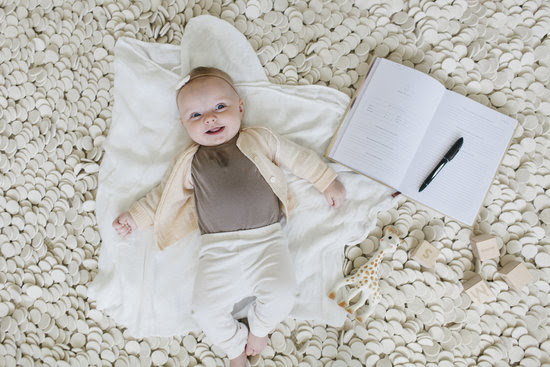 #3 : INCREASES BONDING
Breastfeeding is such a special way to bond with a newborn. I can't tell you how much I loved her sleepy snuggles after she'd nurse. I can remember the smell of my newborns - it's intoxicating. There's NOTHING better in the world than a newborn sleeping on your chest. Nothing rivals it. The moment you meet your newborn, you feel the most powerful feelings you'll probably ever feel in your life.

My advice to you is capture those feelings in a safe place. WRITE THEM DOWN. You think you'll always remember, but the details fade. Write them down now so when they are 3 (and you want to put them up for adoption) you can have more patience. Write them down now so that magical time of life can be relived for years and generations to come.

No one has time to write everything, so just write SOMETHING. The prompts in our journals will guide you and make it simple. We know everyone is busy - I promise it'll take you five minutes. 
We hope these tips and pieces of advice have been helpful for you! Share this link with any new mamas who may find it useful. We all need some help sometimes! 
P.S. Don't forget to enter the giveaway below! Runs until 4/22/17
LACTATION LINK & PROMPTLY JOURNALS GIVEAWAY
Here's how you enter...
Follow @lactationlink and @promptlyjournals on Instagram
Tag a friend on Instagram
Ends 4/22/17